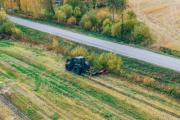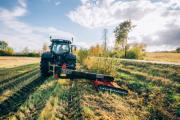 M160 Standard
Ilsbo m160 Standard, formerly Ilsbo m150, is an affordable chain mulcher with belt drive that is suitable for cutting bushes, shrubs up to 100 mm and long grass growth around the field edges, forest roads and the first cut on major roads.
Chain mulcher for tractor
The M160 fits tractors from 55 hp to 120 hp and is mounted in the 3-point attachment back on the tractor. The chain mulcher can be used with the S120 Standard sideshift frame for extra reach (402cm).
Cutting width of 150 cm
The cutting head is reinforced with sturdy box constructions to withstand rough experience. The width of the cutting head is 160 cm and the mulching width is 150 cm.
One of the main advantages with belt drive is that the belt absorbs shock loads applied through the chains. Liftetime of critical components will increase and there will be less downtime on the machine. Also allows side shift to be operated actively during mowing with without risk of breakdown (as with PTO shaft solutions).
Advantages of Tokvam M160 Standard
Can be angled from -35 to 90 degrees.
Spring release is standard.
45 degrees splashguard back is standard. The angle makes it easy to pass foreign elements.
Chain storage for extra chains.
Easy to change and extend chains.
Very strong sideshift frame is available as optional equipment.
+ View more
- View less
DETAIL1145
https://youtu.be/gAcuFUGRxwE
https://youtu.be/gAcuFUGRxwE
Working width

59.06 in

Attachment

3-point

Weight

1488.1 lbs
Drive direction

Pulling

Cutting width

59.06 in

Power requirement max

88.25 kW

Power requirement min

40.45 kW

Max weight of carrier recommended

7 t

Min weight of carrier recommended

3 t

PTO rpm

540 rpm , 1000 rpm

Range without sideshift frame

134.65 in

Range with sideshift frame

158.27 in