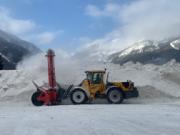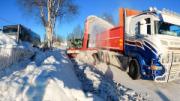 F240H Monster
The F240H Monster brings hydraulic snowblowers for wheel loaders to the next level. With a very large feeding auger, large impeller and smart solutions that provide hight capacity, completely new possibilities arise. This is a hydraulic frontmounted snowblower that can replace several of the tasks of a traditional wheel loader snowblower with its own engine, such as snow loading.
F240H Monster and carrier
The Tokvam F240H Monster is suitable for large wheel loaders and special machines such as a Wille or Cat938.
The snowblower for the toughest jobs
F240H Monster is developed as an alternative to a snowblower with its own engine when your wheel loader has sufficient hydraulic capacity. F240H Monster is excellent for snowloading, but also works excellently for other tasks such as snowbank cutting and maintenance snow removal. A wheel loader with hydrostatic drive and sufficient hydraulics together with the characteristics of this snowblower will give you a perfect result at a significantly lower cost than with a traditional snowblower with its own engine.
Advantages of Tokvam F240H Monster
Built with Hardox in the impeller, impeller housing, chute and in large parts of the chassis.
Automatic release mechanism on the feeding auger, so that safety is ensured without having to think about changing share bolts.
The snowblower requires extremely little ongoing maintenance.
Can be supplied with optional equipment such as oscilliation frame, wheels and snow cutters.
+ View more
- View less
DETAIL1274
https://youtu.be/mKqu6yfod2I
https://youtu.be/mKqu6yfod2I
Working width

94.49 in

Attachment

Volvo BM

Weight

2954.2 lbs
Feeding auger diameter

39.37 in

Max weight of carrier recommended

10 t

Max oil pressure

280 Bar

Min weight of carrier recommended

7 t

Min oil pressure

200 Bar

Hydraulic flow max

66.04 g/m

Hydraulic flow min

47.55 g/m

Impeller diameter

38.19 in

Impeller housing depth

11.02 in