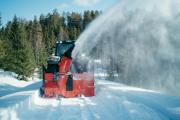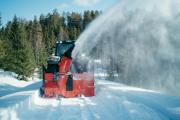 256THS Big
The old favorite Tokvam 255 ths Big is now available in an updated version, the 256THS Big. Tokvam 256 big is a rear-mounted large snowblower with large capacity, many options and great safety for you as the user.
Tokvam 256 ths Big and carrier
Tokvam 256 ths Big fits large tractors from 110 hp to 200 hp. The snowblower has an feeding auger with Heavy Duty bearings, which crushes clumps and empties the snow blower in an excellent way. Especially good on difficult snow.
High operational reliability
With simple and smart constructions for high operational reliability, there is a low risk of costly repairs.
Advantages of Tokvam 256 ths big
Large open, double and saw tooth feeding auger provides very large capacity.
5 year warranty on bevel gears.
Rounded chassis for the snow to slide off.
Heavy Duty stock on feeding auger.
Possibility of automatic coupling instead of sheer bolts.
Hardox in the impeller housing.
+ View more
- View less
DETAIL1227
https://youtu.be/ZWfV6C0v5Ww
https://youtu.be/ZWfV6C0v5Ww