V-ploughs
This combination plow is well suited for both plowing roads and footpaths. The v-ploughs works well for clearing snow from both large and small areas and is therefore a good choice for you who, among other things, will be clearing snow from densely built-up areas with narrow and winding roads.
Provides good scraping of road soles
15 degree positive cutting angle provides good scraping of the sole and makes the surface smoother. The Tokvam folding plow has very good road-opening properties when driving in a v-shape.
V-ploughs carriers and areas of use
We have v-ploughs for tractors and v plows for wheel loaders and they are suitable for carrying machines from 6 to 14 tonnes.
Advantages of the Tokvam v-ploughs:
Can be shaped in Y, V and pointed, which provides many applications.
15 degrees positive attack vinyl that provides snow rolling, better throwing properties and is fuel-saving.
Powerful construction that provides high strength and a long service life.
The FlexFlow flow and attachment system provides optimal flow on the surface and efficient power transmission from the carrier machine.
+ View more
- View less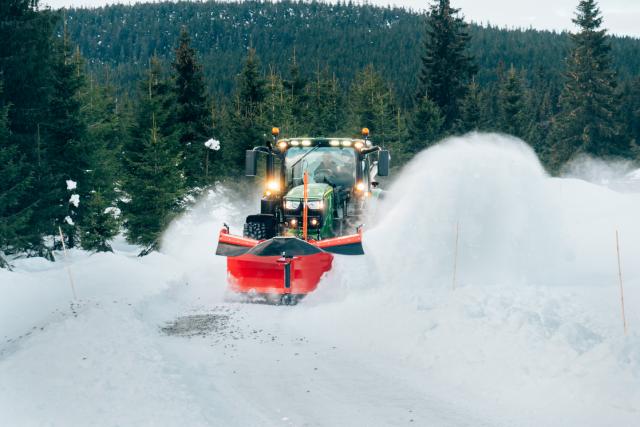 Do you need help finding the right product?
The closes dealer can help you choose the right product and and spare parts. Find your closest dealer. If you can not find a dealer in your country, please contact Tokvam under contact us.