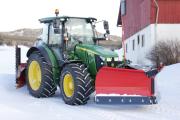 VT280
Tokvam VT320 is a smaller combination plow for clearing snow in urban environments, smaller areas and footpaths. Suitable for densely built-up areas where accessibility is important, but also has very good road-opening properties when driving in a v-shape.
VT280 and carrier
VT280 is suitable for smaller tractors and wheel loaders from 6 to 10 tonnes and is the lowest in our v-plow family, for better visibility and is also the lightest of our v-plows. In addition to lateral oscillation, the VT280 has a vertical oscillation of 30 cm, which provides excellent adaptation to uneven surfaces.
High strength and long lifetime
The construction of a Tokvam snow plow is characterized by a strong construction and good material choices that provide high strength and a long lifetime. Tokvam's patented FlexFlow flow and attachment system ensures easy use and flexible usage options.
Advantages of the Tokvam folding plow vt280
Tokvam's patented FlexFlow flow and attachment system for optimal flow on the surface.
15 degree positive angle of attack provides snow rolling and better throwing properties.
The 39 degree turning radius gives a small transport width.
Wedge bolt system for easy and quick change of wear steel.
All fastening bolts, including the king bolt, are made of stainless, hardened steel for increased strength and a longer lifetime.
Flexi-attachments for the possibility of using on serveral different carriers.
+ View more
- View less
DETAIL1186
https://youtu.be/jPNk9lVBB2E
https://youtu.be/jPNk9lVBB2E