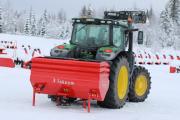 DSM1200 (1500, 1800)
Tokvam DSM1200 is a compact disc spreader with stepless adjustment of spreading width between 1 - 8 meters and DSM can be supplied with speed-dependent control. DSM is available in different sizes, 1200, 1500 or 1800 litres, depending on how many extension frames you choose.
Great saving of gravel
The flexible adjustment of the spreading width can lead to up to 30% savings on gravel compared to a traditional roller spreader. This is a good disc spreader for those who have a combination of spreading over open areas, along roads and walkways. Suitable for anyone who has spreading assignments that require different spreading widths and/or for those who want cost-effective use of gravel.
Carrier for DSM1200, DSM1500 and DSM1800
The Tokvam DSM 1200 is a compact three-point mounted disc spreader for medium and large tractors. All functions are controlled from the tractor's ISOBUS system or from our own display.
Benefits of Tokvam DSM1200, DSM1500 and DSM1800
The spreading width can be easily adjusted from 1-8 meters and you can juxtapose the spreading image (for example 1 meter to the left and 3 meters to the right).
DSM can be controlled using the tractor's ISOBUS system or Tokvam's own display.
There are several options for speed-dependent driving (the machine lays out the same amount per square meter regardless of speed and width settings) depending on which carrier you have. Retrieve speed signal from ISOBUS, 7-pin connector or radar.
Can be used on most known spreading materials. NB! We recommend gravel without fine materials.
+ View more
- View less
DETAIL1181
https://youtu.be/IXaq7-O_yxQ
https://youtu.be/IXaq7-O_yxQ